Dear Internet:
This is Tendown 112. 111 is
here.
1. The Post Mortem
The 49ers last Super Bowl appearance was 17 years ago. In that time, the single instant in which we had our best chance to get back was last Sunday when Eli threw an incompletion on third down deep in their own territory with 11:23 left.
As the Giants lined up to punt us the ball back, our win probability was 78%.
A 78% chance to go to the Super Bowl.
We didn't go, as you're aware. You can find out why by reading my
post previewing the game.
This isn't just to brag (although a little bit, I'm 8-2 against the spread in the playoffs) it speaks to why you shouldn't consider the Niners to be knocking on Super Bowl's door. We had a massive turnover differential this season, as spotlighted by the five we took away from the Saints the week before. Of the statistics you're likely to hear on pregame shows, the one with the least amount of predictive value for future games (or seasons) is turnover differential, as there's a high level of associated happenstance. The balls that bounce your way for a game, even for a season, don't suggest they'll continue to bounce your way. A season of turnovers turned into our defensive backs twice colliding into each other to miss an interception, turned into a quick whistle saying Bradshaw's forward progress was stopped just before we stripped him, turned into the two lost Kyle Williams punt returns. We also were comparatively injury free this season - but when Ted Ginn went down the week before, Williams had to step in as the punt returner. When one of those collisions between our defensive backs turned into an injury, our 4th corner had to step in and got beat on New York's 4th quarter touchdown. Health and turnovers win you games, but you can't count on them, and you're likely to fall back to normalized levels of both next season.
What those two factors did was minimize the harm of our middling offense; in my preview piece, I said we really only have two weapons, Vernon Davis (who scored twice) and the backup running back Kendall Hunter. We need a field stretching receiver
(and a ton of them are available)
; Hunter needs his workload increased, either into a time share with Gore or one with Dixon with Gore leaving town, and we need to take a grown up look at Alex Smith.
At the close of the Saints game, Ted Robinson ebulliently, maybe even defiantly, shouted that no one should ever doubt Alex again.
There's been no reason to doubt Alex Smith for two seasons - he's an average to goodish quarterback; he can move a little bit and this year didn't turn the ball over at all, meaning he can win the kind of grind it out low leverage game that our defense is built for and that, given the degree that every change in 21st century football favors passing, is the last way I'd want to see my football team structured. Alex Smith played the game of his life to beat the Saints, but that's not who he is - he's a guy who won't hurt you.
And if that's who we go with, we'll need those turnovers and we'll need that health, and we'll need everything to fall exactly into place. You can win the Super Bowl with an average to goodish game manager quarterback, but it doesn't happen often.
Or, you could consider...
'Cause that dude's leaving Indiana.
It was a fun year, and as someone who watched Harbaugh kick my ass in the Pac 10 and has now watched him for a year as the 49er coach, I'm fully on board. I feel better about the competence of 49er decision making than I have in 20 years (and certainly better than the decision making for my baseball team, more about that in a second). So, I don't believe we're headed back to the bottom of the league anytime soon.
But if it's another 17 years before we have a 78% chance to go back to the Super Bowl, that wouldn't surprise either.
2.
The Clip Video Which Will Make You Feel Better
For the 49er fan in your life.
This will help.
Here's a good
Grantland
piece about the title game. It helps a little less.
3.
This Might Help Too, If You're the Vindictive Sort
I got no beef with TO, an all time great 49er. But I think that's a minority opinion.
If you've got some TO schadenfreude, this
GQ piece
is a good read:
I'M IN HELL. That's what he texts back to people who ask where he is. "He's stronger than anyone I know, but he's under a lot of pressure, to put it mildly," says one of his few close friends, Matthew Hatchette, a former NFL wide receiver and frequent bowling buddy who coaches high school football in the Valley. It's enough to drive a man to dangerous lows. But all that talk about T.O.'s alleged suicide attempts, the one in 2006 and then another, just a few months ago, that surfaced when TMZ released the 911 call from his assistant? A misunderstanding, he says.
4. Meanwhile, on the baseball side.
MLB Network did a special about the 40 greatest moments in Division Series history.
(I know, I won the Series two years ago, its too early for me to play the long suffering Giants fan card, I know).
We were featured in 6 of those moments. Which makes sense, we've played in 5, winning twice.
Here were the six San Francisco Giants highlights from that special.
#38 1997 Game One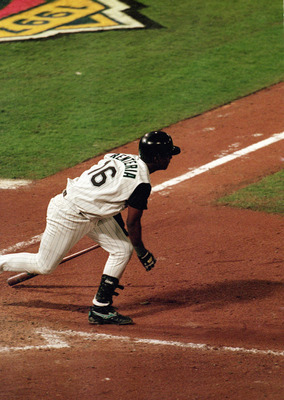 Edgar Renteria walked us off. I was there. So, not such a great start.
#34 2000 Game 3
Benny Agbayani walked us off. This one I just saw on TV; it was two weeks after my run ended on the game show. So, that's two that aren't good. But 2002 has to be next. 2002!
#32. 2003 Game 3
Pudge walked us off in 11 of Game 3 after Jose Cruz dropped that fly ball in the 9th. I was there. What about 2002? Where did 2002 go?
23. 2000 Game 4
Bobby Jones one hit us in Game 4 of 2000. So, not only did we skip 2002, but we're doubling back for this Mets series. Two left - obviously, since we won the Series in 2010 and had all those one run games against the Braves, we're about to see some sweet Giants clips on this countdown.
20. 2010 Game 4
So - this was our division clinching game against the Braves - but the moment they chose was that it was Bobby Cox's last game of his career and everyone applauded. This is our best ever NLDS moment. Clapping for Bobby Cox. There's one more, I was there for that too..
#2 2003 Game 4
And that was the countdown.
5.
And then This Happened
There's a new game show on MLB Network - it's not for civilians, its the stats guys from each team playing each other for charity.
Or almost each team. Our representative was the community relations guy ('cause a team with a stats guy doesn't deal Jonathan Sanchez for Melky) and in an opening round game against the Dodgers representative, well, there's the final score.
Know who tried out for the game show I was on once upon a time? Bill Simmons.
And he wrote about it.
6.
This Week In Politics...
Campaign commercials have hit Florida (You could, as of a couple of days ago, still get Romney +400, it went to +800 just a few days after I last suggested you could get some easy money, then dropped off the board when Newt got 10 million bucks to dump into South Carolina and called Obama the "food stamp president, but is now back up at +400, and it remains free money). Newt's running on the 90s economy.
No, seriously. The Clinton 90s economy against which Gingrich attempted to shut the government down before he was sanctioned by almost every member of his own party for ethics violations, given the largest fine in Congressional history and eventually drummed clean out of his speakership. Newt's running on spearheading it.
last year
had
twice
as many Republican guests as Democrats.
In Tennessee, the Tea Party wants references to
slavery taken out of textbooks.
You know, the non partisan tea party, mainly libertarians, they just want small government, their rise totally unrelated to the election of a black President.
And in Arkansas, human excrement, people who I wish nothing but intense suffering every day for the rest of their lives,
bashed in the skull of the family cat
of a campaign manager for a Democratic congressional candidate and scrawled the word Liberal on its carcass. You know, like the left is always doing, killing the pets of conservatives and leaving them on the porch for the kids to see.
7. You're Going to Lose Every Time
Hey public school administrators. You still can't proselytize. Even in
South Carolina.
And to Rhode Island state representative Pete Palumbo, who went on the radio and said the 16 year old hero who stood up for her settled constitutional rights was an
evil little thing
, as she's predictably getting death threats from followers of the religion that is based on peace (not at all like those Muslims) - I'll refrain from completely speaking my mind and just call you a Know-Nothing Scumbag.
8. I Watch Wrestling
The Rumble is tonight -
my preview is here.
I saw a couple of 4 star matches from 2011, Fujita Jr. Hayato v. Nakajima from Kensuke Office in November, Haas and Benjamin against Edwards and Lethal from ROH in November. I've yet to start watching 2012 matches; my ranking of the Top 25 matches of 2011 is
here.
I finished my third week of teaching 9 college courses in 6 different subjects for 4 different schools. There are easier ways to not be able to afford health insurance than this. I'm 0-3 in job interviews for full time positions, this week was a legal writing job that didn't go my way. This doesn't count every job for which I apply, just the ones that are full time for which I get an interview. Next man up is this week - it's a phone interview with a university, it's the best job for which I've ever interviewed in my life. Adjunct college professor feels a little like migrant labor. I'm standing on a streetcorner every morning hoping some passer by will need a day worker to talk about the Epic of Gilgamesh.
9. Academy Award Nominations
If you listened, I made you some money at the Golden Globes (come on, I gave you both Kelsey Grammer and Matt LeBlanc, what more do you want?); SAG Awards are tonight, then Grammys, and Oscar Nominations came out this week.
The only real opportunity I see (other than taking not great odds to invest on the Oscar favorites) is Viola Davis for Best Actress; it's Streep who is favored, but Davis is more likely to win. If you want to get in now on the rest of the favorites (except for both Supporting categories, which just aren't worth the price) go ahead; I haven't looked to see if Adele's even on the board, but maybe you can get a price investing in a sweep.
My Super Bowl pick will be up in a separate post this week, and then I'll include it in next week's Tendown - but if you've read this far - I'm taking New England.
10.
What I Learned Watching Another Season of Toddlers and Tiaras.
If you ban the phrase "Get it girl!" and any variation thereof from the competitions, the parents would have absolutely nothing to say.
That's all for this time. I'll be back next time. If there is a next time...
Your pal,
Jim