Part 1 is
here.
Chicago Bears 0 at San Francisco 49ers 23
Sunday, January 6, 1985
The '84 Niners are not the best regular season team in San Francisco history (that's the '87 team) but, when you consider the postseason as well, this is the best 49er team of all time.
After our week 7 loss to Pittsburgh, our only loss in the first 18 win season in NFL history, here was the rest of the regular season:
at Houston 34-21
at LA Rams 33-0
Cincinnati 23-17
at Cleveland 41-7 (I was there)
Tampa 21-17
at New Orleans 35-3
at Atlanta 35-17
Minnesota 51-7
LA Rams 19-16
We had over 400 yards of offense against the Giants in the playoff opener; their only touchdown in our 21-10 win an interception returned for a score (Joe threw three picks). We were at home, 9 point favorites against the Bears the following week and the defense just throttled them; we had 9 sacks, they had 37 yards passing, a slow offensive start limited us to a 23-0 win.
San Francisco 49ers 28 at Chicago Bears 3
Sunday, January 8, 1989
We were 1 point dogs (fairly so) in 20 degree Soldier Field four years later when we met the Bears again in the NFC Championship. This was the worst of our 5 Super Bowl winners; the '88 Niners were only the 26th best regular season team in San Francisco history, 6-5 and with a raging quarterback controversy before ripping off 4 straight to get into the playoffs.
The first to fall was the Vikings team that had come into San Francisco and shocked the best regular season team in 49er history in round one of the playoffs the year before - Joe threw 3 first half scores to Jerry and we ate them alive 34-9.
30 mile an hour winds were supposed to doom our passing game in the NFC Championship - but this was Joe's best NFC Championship game to that date, 17 for 28, 288 yards, 3 scores and no picks. Jerry caught five balls for 133 and two first half scores and Chicago went down without much fight. This was the first NFC Championship game I watched by myself; I was off at college by this point - I came home for the Super Bowls, but I watched this and the next year's title game by myself at school.
Los Angeles Rams 3 at San Francisco 49ers 30
Sunday, January 14, 1990
The '89 team was the 7th best regular season team in 49er history - but had the most dominant playoff run, maybe in the history of professional sports.
Divisional Round:
Niners 41 Vikings 13
NFC Championship:
Niners 30 Rams 3
Super Bowl 24:
Niners 55 Broncos 10
And as silly as it sounds, none of the games were as close as the scores would suggest.
The Joe Montana we saw in the Super Bowls, but who was a little less than that in the playoffs until '88, returned in '89; Joe hit the Vikings for four first half touchdown passes (Rice, Jones, Taylor, Rice) and we went up 27-3 at the half, easing through to the 41-13 divisional round win.
We were 7 point favorites in the NFC Championship against the Rams; it wasn't nearly enough - Joe went 26 of 30 for 262 and 2 scores (Jones and Taylor)..let's consider Joe Montana's 1989 postseason:
65 of 83 for 800 yards, 11 touchdowns and no picks.
We took a 21-3 lead into the half and cruised to a 30-6 win.
How about the combined scores at halftime of the three games: 75-9.
75-9!
New York Giants 15 at San Francisco 49ers 13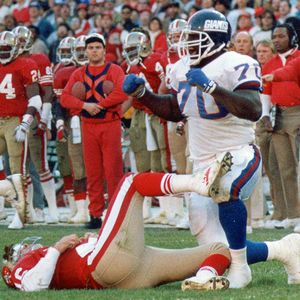 When did the 1980s end? January 20, 1991, when Leonard Marshall killed Joe Montana.
The Not Quite Threepeat 1990 Niners are the 24th best regular season team in San Francisco history, not as good, frankly as the Giants team who beats us in the NFC Championship game (despite our being a wildly outsized 8 point favorite). The difference was the lack of running game; Roger went down early in the year with a knee and never was the same player again; we relied on Dexter Carter to be our leading rusher
Second quarter TD passes to Rice and Sherrard put us up 21-10 in the division playoff game against the Skins; we picked Rypien three times, including Michael Carter's 61 yard touchdown return in the 4th to get the final 28-10 score.
It felt like we were still the same invincible team; we were 14-2 and the amount of confidence you had at that point as a 49er fan was unreasonably high. We had beaten the Giants earlier in the year in that 7-3 Monday Night game; this was that again, New York won despite not scoring a touchdown, 15-13.
We took a 13-6 lead in the third on the only TD of the game; Joe hitting JT for a 61 yard score; a quarter later he was getting crushed by Leonard Marshall, ending his tenure as our starting quarterback in what was also the last game as a Niner for Ronnie and Roger. We had the ball though, with Young in the game, and less than 6 minutes to go after New York cut it to 13-12 on Bahr's 4th FG.
Then Roger fumbled. And that was that. I was home for this game; I've forgotten the circumstance as to why I came back for this game as opposed to the two previous years when I waited for the Super Bowl...it could be that I didn't get CBS in my apartment; this was my first year out of the dorms, and I didn't have cable - the only station I had was the NBC affiliate, so that's what it was - that means this would be the last NFC Championship game that I watched with my family.
You can, if inclined, watch Matt Bahr beat
us.
here.
8 down. Part 3 to come.