Sunday will be the 14th NFC Championship Game in 49er history. We're 5-8. Here are the first four.
Dallas Cowboys 17 at San Francisco 49ers 10
The 49ers lost the first ever NFC Championship Game. How long ago was January, 1971? This game was our last in Kezar.
How old am I? I've been alive for every single Niner NFC Championship game, although I was only a couple of months old for this one and can't claim any of the disappointment that marked the early 70s Brodie teams. I don't remember Plunkett as a Niner at all; so my first 49er team was '78, 8 years after this group.
The 1970 49ers were first in the NFL in offense and the best of the 70s 49er teams; at 35, John Brodie had his career year; two years before, he led the league in picks with 21, the next year, he threw for 24 - but in 1970, Brodie led the league in fewest interceptions per pass attempts with only ten picks. He led the league in quarterback rating, yards per game, and TD passes with 24; Gene Washington had 20 yards a catch.
Despite that, beating the Vikings in Minnesota in the opening playoff game was a significant upset; I can't say this enough, those Vikings teams of the Purple People Eaters era were among the very, very best in NFL history - their defense was significantly better than ours, but in 10 degree weather we forced four turnovers and won 17-14.
This was a Craig Morton Cowboy team; they were maybe a little better than we were, but given home field advantage and the win the week prior, it would have been reasonable to think the Niners were headed to the Super Bowl. We were, in fact, 4 point favorites. Favorites! Favorites to win the first ever NFC Championship Game!
We did not win. This was an ugly game. 3-3 at the half. Brodie was 19-40 with two picks, both of which led to Cowboy touchdowns, and Morton was 7-22 for 103; Dallas put the ball on the ground 4 times but only lost one of them. We went into the 4th quarter down 17-10, after a late third quarter Brodie to Witcher score got us close. Dallas missed a FG with 11 minutes to go; two minutes later, we missed one.
With a little less than 5 minutes left, we forced a punt and took over at our 23. We converted one 4th down, but a sack left us 4th and 6 at our 39 and they stopped us. We got it back with just a few seconds left, and died in the middle of the field.
San Francisco 49ers 3 at Dallas Cowboys 14
Sunday, January 2, 1972
That 1970 team was the 18th best regular season Niner team of all time; the next year was our 20th. The core of the club was exactly the same, and the defense, with some of the all time best Niners ever (Jimmy Johnson, Charlie Krueger, Tommy Hart) was the better of our two sides of the ball, with Brodie throwing more picks than scores. We won our playoff opener, again at home, beating the Redskins 24-20; we broke the game open in the 4th after they botched a punt at their goal line. The rematched title game was in Dallas this time (we were 7 and a half point dogs) Staubach was the Cowboy quarterback and his game (9-18 103 yds) was as bad as Morton's the year before - but Brodie was bad again, he threw 3 picks and we lost 14-3. Cedrick Hardman dominated the line of scrimmage; sacking Staubach 3 and a half times (what's the record for most sacks in an NFC Championship game? It can't be higher than that.) We were down 7-3 going to the 4th quarter, but a 14 play drive that ended in a Duane Thomas score put us down 11 with 10 to play and we only got one more first down the rest of the game.
Dallas Cowboys 27 at San Francisco 49ers 28
Ten years later, we made it back.
I don't recall the specific point
during our game winning drive
that our power went off, but I didn't watch Dwight's catch (the signed photo of which I have hanging right now in the room in which I'm writing these very words); instead, my parents and I listened to the radio call. I was 11 years old in January of '82; huddled around the radio with my parents as we beat the Dallas Cowboys remains my favorite sports memory.
The '81 team, despite the rhapsody, was only our 21st best regular season team ever, and the weaker element was the offense as the defense finished second in points allowed. But we won games, 12 of our last 13, including kicking the hell out of the Cowboys in what was literally the first time of my life that it ever struck me that the 49ers were a good football team.
We beat the Giants 38-24 in the first round of the playoffs; Joe threw for 2 scores (Young and Solomon, both in the first half) and Ronnie had two picks, one for a 4th quarter touchdown that effectively ended the game.
Then - Dallas. John Brodie might as well have been Frankie Albert in my mind; games played before my memory were all in a box marked history that I enjoyed opening but had no real ability to appreciate the lineal progression of. But I recognized that we didn't like the Cowboys, that they had snuffed out our previous attempts to go to the Super Bowl, and that despite our having beaten them earlier in the year, they were still the team through which we had to go. We were 3 point dogs which was clear error; the teams were essentially evenly matched, and given our home field advantage and having beaten them earlier in the year, the number should have been exactly the opposite - but it demonstrates the way the public (and, in my mind's eye, the football media) viewed our relative positions.
I won money on this game. Yes I did. Money won when you are 11 is twice as sweet as money given to you by your dad.
The '81 NFC Championship was a pain in the ass; we had a hundred yards in penalties and 6 turnovers (has a team ever won the NFC Championship with more than 6 turnovers?) Joe Montana never threw a Super Bowl interception - but in his first NFC Title game he threw 3. Fumbles by Ring and Easley led to two Cowboy scores; Ronnie picked up two pass interference calls, one of which (a phantom call) took away a pick.
Dallas went 3 and out on the opening drive; Dwaine Board sacking Danny White to end the series.
We went down and scored. Joe hit Schumann for 11, Charlie Young for 17; Lenvil Elliott for 24, and Freddie Solomon for the first score.
Dallas kicked a FG on the next drive, the big play a 20 yard White pass to Butch Johnson.
Then the turnovers started - Billy Ring fumbled at our 29 and fifty seconds later White hit Tony Hill for a 26 yard score that flipped the lead.
We traded 3 and outs and that ended the quarter.
We got down to the Cowboy 27 on the next drive, Joe to Dwight for 38 was the big play, but an attempt to connect with Mike Wilson was picked by Everson Walls just outside their endzone, and with 10 minutes left in the half we had turned it over twice and were still down 10-7.
We forced a three and out and got good field position after a short White punt (yes, the starting quarterback was the starting punter in an NFC Championship Game in my lifetime, it must sound like Chuck Bednarik to newer ears) and 4 plays later we had the lead on a 20 yard Montana to Clark.
The Cowboys went 80 yards on the next drive, and its reasonable to begin to worry now; back to back plays saw a 17 yard reception by Hill and then the bad interference call on Lott that took away the pick. That gave Dallas 35 free yards, and 3 plays later Dorsett was in the end zone.
They gave us a chance late in the half when Jones fumbled a punt and we took over at their 42; but after a 15 yard penalty against Dwight for an illegal block Joe fumbled (3 picks and a fumble) after a Harvey Martin sack.
Our defensive line didn't let up - a Stuckey sack and then a Pillers hit on White forced a fumble, but they kept possession, the half ended with our having the ball.
We went 3 and out to begin the second half. They followed with a 3 and out after pressure from Board led to an intentional grounding call. Their punt gave us the ball at midfield and we drove to the 16, but again, Joe got picked deep, this one when the ball went off Elliott's hands and into Randy White's.
7 and a half left in the third and we're still down.
Seven plays later we were ahead. Bobby Leopold got a pick, Joe threw a two yard score to Johnny Davis and it was 21-17.
Ronnie's second pass interference penalty came on a third and five on the next drive, and put them at our 12, down 4 as we went to the 4th quarter; he got bailed out by Eric Wright, who broke up what would have been a score on third and 3 at our five. A Septien field goal made it 21-20 with 14 minutes to play.
Joe hit Freddie for 21 to get us out to our 40, but two plays later Walt Easley fumbled at midfield.
Two minutes later White hit Cosbie for the score, the Cowboys were up 27-21 with ten to play and when a Joe deep ball to Solomon was picked by Walls, Dallas had possession at their 27.
They converted on two third downs, eventually punting from our 47. We took over at our 11 with 4:54 left, down by 6.
-Incomplete pass.
-Elliott up the middle for 6. Third and 4.
-Joe to Freddie for 6. First down at the 23.
-Elliott around the left side for 7.
-Incomplete pass. Third and 3.
-We picked up the first down on an Elliott run, but the Cowboys were offsides and we took the penalty.
-Joe to Cooper for five. At the Cowboy 49. 2 Minute Warning.
-Freddie around left end on a reverse to their 35.
-Joe to Dwight for 10.
-Joe to Freddie for 12. We call time out with 1:15 left at their 13.
-Incomplete pass.
-Elliott sweep left for 7, we call timeout with 58 seconds left before the third and 3.
-Dwight.
Dallas took over at the 25, and on the first play White hit Pearson in the middle of the field for 31, only a Wright horse collar saves the game. Dallas called timeout, only down 1, at our 44 with 38 seconds left. My power was still out. Pillers forced a White fumble on the next play, Stuckey recovered, and we had won our first NFC Title.
San Francisco 49ers 21 at Washington Redskins 24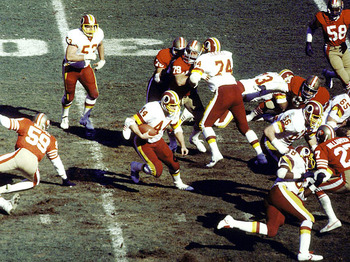 To that date, the 1983 49ers were the second best regular season Niner team of all time (1953); '82 had been a disaster, we missed the playoffs coming off our SB win. The Rams, of all teams, helped us out in the offseason with the Wendell Tyler trade - we added Roger Craig in the draft, and suddenly we had our first real backfield in years.
We again opened the playoffs with a home win, this time over Detroit - who had a fourth quarter lead after two Billy Sims touchdowns, but Joe hit Freddie to get us to our 4th NFC Championship.
We were 10 and a half point underdogs in DC against the Redskins; our biggest ever NFC Championship spread, either for good or ill. That was a little heavy maybe, but they were the better club.
You can watch the NFL Network version of the game here.
The Niners were down 21-0 going to the 4th quarter. Joe hit Mike Wilson (Dwight was hurt) for a five yard score at the top of the quarter. After Mark Moseley's fourth missed FG of the day, Joe hit Freddie for a 76 yard score and with 7 left, Joe hit Wilson again for 12 yard score - we had 21 points in 7 minutes to tie the game.
We never really got the ball back - they got two terrible penalties to keep a long drive alive, a pass interference against Wright and a holding against Lott; they got the winning FG almost at the gun and we went home 24-21 losers.
So, we lose 3 of our first 4 shots at the conference title. In part two of this list, we flip that record.