Dear Internet:
Tendown 89=The week I went to the baseball game. Let's see how that turned out.
1. My Miami History
Friday night, the World Champion San Francisco Giants came to Miami for the first time this season.
I've never attended a baseball game played by the World Champion Giants; considering that I'm 40, there's a not unrealistic possibility that's an occasion that will never occur again.
We're in Miami three days this season; my schedule is such that I could have attended only one of those games - it turned into a coin flip between the first game of the series and the second.
Here's the result of the second game:
MIAMI -- In need of a dominant pitching performance after having lost 11 of 14 games with a struggling offense, San Francisco turned to its two-time Cy Young Award winner.
Tim Lincecum didn't disappoint Saturday night, tossing seven innings of two-hit ball as the Giants beat the Marlins, 3-0, in front of 25,013 at Sun Life Stadium.
Lincecum (11-9), who struck out 10 and threw 119 pitches in his seven innings, improved to 2-0 in his career against Florida, and snapped the Giants' five-game losing streak to the Marlins, dating back to last season.
That's our potential Hall of Famer striking out 10 guys as we whipped the Marlins.
So, I could have gone to that game.
Or I could have gone the night before:
MIAMI -- Matt Cain allowed just two runs over six innings, but Pablo Sandoval's solo homer was the only offense for the Giants as they lost to the Marlins, 2-1, Friday night at Sun Life Stadium.
So, you've been reading me for awhile. It's Tendown 89 after all. Which one do you suppose I chose?
Here's a reminder of Jim Jividen's history watching the Giants play in Miami.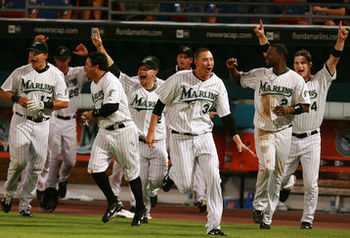 1. September 30, 1997 was 5 days after my 27th birthday and Game One of the NLDS. It was our first postseason game since the Earthquake World Series sweep by the A's and my first ever playoff game seen in person. We got 4 hit, but took a 1-0 lead with a Bill Mueller homer to lead off the top of the 7th. At that point, a group of fans a few rows behind began to throw popcorn at me as I cheered. Our win probability after Barry followed with a double was 70%, but we stranded him there; the Marlins tied it in their half of the inning and in the bottom of the 9th, with 2 outs and the bases loaded, future Giant Edgar Renteria singled to walk us off. Thanks Roberto Hernandez!
2. October 1, 1997 was the next night; I got stuck sitting behind the Marlins bullpen, got heckled all night, and was in a shoving match in the parking lot after the game. We scored runs in each of the first 4 innings, Barry doubled twice, but were still down 6-5 going to the 9th inning when two errors and a single tied the game. In the bottom of the ninth, future Giant Moises Alou singled to walk us off. Thanks Roberto Hernandez
3. October 3, 2003 - a half dozen years later I sat with my mother behind the Giants bullpen for Game 3 of the NLDS and saw us tie the game at 2-2 in the 6th, then leave 2 on in the 7th, leave a runner at second in the 8th, leave them on the corners in the 9th, leave two on in the 10th, take a 3-2 lead in the 11th, but leave men on 2nd and 3rd, having a 90% to win the game, and then Jose Cruz dropped that fly ball in the bottom of the inning - I felt like I was the only one in the stadium looking dead at him the whole way; you know how on a routine play your eyes can leave the ball - for whatever reason I looked the ball into...and out of Cruz's glove, and felt like I was a split second ahead of the entire stadium in recognizing what had happened. With the bases loaded and 2 out, Pudge Rodriguez hit a 2 run single to walk us off. That walk up the aisle and out of the stadium was among the longest of my life. Thanks Roberto Hernandez! (Roberto Hernandez was long gone, but I hold a grudge). The Marlins are doing a fan vote for their 10 greatest moments to commemorate their move to the new ballpark; during the game I attended this week, they showed one of those moments on the big screen. It was the Rodriguez single - the second the clip started, I turned to my mom, "that's the Jose Cruz game." She pointed down the third base line behind our bullpen "we sat right down there."
4. October 4, 2003 - This was on the MLB Network list of the greatest games of the TV era; we were down 5-1 the next night after 4 when Jerome Williams (we started Jerome Williams in an elimination game?) got bombed. We got them all back in the 6th, and took that 5-5 tie into the bottom of the 8th when Felix Rodriguez, just a year after his role in our blowing a 5 run Game 6 World Series lead, gave up two to put us down 7-5 going to the 9th. We quickly cut it in half, and had the tying run on with no one out in the 9th - two outs and a hit batsman later, JT Snow got thrown out at the plate trying to score on a base hit, maybe the only postseason series ever to end on a home plate collision. It was the last game I ever got to see with my dad; on the way home, I said we were never going to win the World Series.
So - which game did I go see this weekend? The 3-0 shutout win where Lincecum struck out 10 - or the 2-1 loss where what would have been a game tying Cody Ross double/maybe triple off the wall turned into a 9th inning out caught by a sprawling Marlin backup outfielder?
2.
The Jinx
Yeah, I picked the wrong one.
3.
I Did See an MLB Record, However
In the history of Major League Baseball, no team had ever hit more than 19 consecutive solo home runs.
Until Friday night - that's Pablo Sandoval about to touch home plate after breaking the record in the first inning. I was there. It's a weird little record to have seen, but there have been almost 200,000 major league baseball games, and I took a picture of a thing which had never before happened. I was with my mom; we had terrific seats in an almost entirely all-Giants fan section (like a Little Burlingame) parallel to the third base bag behind the visitors dugout. I almost didn't go, as I had a fairly nasty cold I had been medicating myself through to get through the workweek (my workweek never ends, when I'm not physically in class, I'm working at home, but Wednesday/Thursday was when I was both at my sickest and my busiest, so it was touch and go for awhile if I was going to make the trip south to Miami. I'm about an hour and a half from the park.) I saw more Giants jerseys than Marlins jerseys Friday night; part of that is availability bias, most of my exposure came to the fans nearest me - but part of it is an observation that having won a World Series, having had a Showtime reality show, and having our closer nearing the crossover into hitting the cultural awareness of casual fans, mine is now a team that travels a little bit.
Of those Giants jerseys, I didn't see a single #25, which depressed me. I would have worn mine, but it doesn't really fit so well these days, which depressed me more.
4. Celebrity Sightings
At the Saturday game (the one we won, the one I didn't go to) was Dan Marino, one of the greatest quarterbacks who ever lived.
Who did I see at my game Friday night?
Former professional wrestler Tatanka. Apparently Duke the Dumpster Droese chose to attend the Saturday game.
Additionally, I watched graps this week. 5 four star matches: Taguchi v. Ibushi from New Japan in August (4 1/4), from PWG in May Edwards v. Shelley (4 1/4), Edwards v. Generico (4), Tozawa v. Hero (4 1/4), and Generico/Ricochet v. Steen/Tozawa (4 1/2 - which puts it in the running for Match of the Year).
5. What's This White Thing on my Pants?
That's my right knee. Baseball's messy.
6. Kids Make Me Think of Death
Now, here's the thing, I almost never see kids, except in the most fleeting of circumstance. 3 some odd hours surrounded by kids behaving like kids - just never. It's been years since I've spent as much concentrated time around children as I did on Friday.
All I thought about was dying; these are people created to replace me; they exist utterly absent any of my thoughts; my existence as a living thing is thoroughly unimportant to them. They're newer models, with three+ decades less of wear and tear and white stuff. If you were to ask, "what's the percentage of time Jim spent at the ballpark Friday night thinking about his own death" the answer would be about 37%.
7. The Rest of the Time, I Thought About Foul Balls
Among the lesser voiced differences between the experience of watching a baseball game on a device and attending a baseball game is the amount of time spent thinking about foul balls. On TV, a foul ball is forgotten the second its clearly out of play, in the ballpark, you watch it all the way -
how close is it to me, how hard was it it, do I have a chance to catch it, will it hurt me, will anyone catch it, will it hurt anyone
is in my head after almost every single ball hit out of play. I thought about how I'm unaware of anyone seriously being hurt at any game I ever attended, and how weird it would be if someone had to be stretchered out from a foul ball. Then I thought about the guy who died in Texas earlier this year and how the game continued and how unsettling that would be, probably for the rest of my life, were that to happen tonight - and I wondered about those kids all around, and to what extent they'd internalize if something like that happened - and how quickly the trajectory of your entire life can change because of the trajectory of a baseball thats entirely unrelated to you save for a decision to go to a Friday game instead of a Saturday game. I thought about Owen Hart, a wrestler significantly better than Tatanka, dying in the ring in Kansas City, and that show continuing, and what that meant to everyone there that night.
I mentioned a much abbreviated version of this to my mother in between innings, she said she and dad had this same conversation once (although presumably without the inference regarding Tatanka's lack of workrate) and that she never once thought about foul balls, because she always figured she was with someone who would keep them from hitting her.
I didn't mention that her confidence is almost certainly misplaced. I keep score during the game, so not only am I holding paper (specifically, a legal pad), a pen, a folder on which to write, but, for the first time I can recall, I held my phone in my hand the entire game, in order to BBM my Ladygal, who also had a ticket, but her cold (a cold which I gave her) was, by Friday evening, worse than mine. Much of the difficulty in deciding to go was in deciding her status, and then if I would leave her at home, as opposed to staying there and leaving my mother without someone with whom to go to the game, and theoretically protect her from foul balls that almost certainly would all get by me given how many items I had in my hands and that mysterious white spot on my knee.
Baseball's messy.
I also used the phone to take pictures. Such as of said legal pad on which I was keeping score.
The one note in the margin is where I wrote "big spot" in the third inning as Huff stepped in with the bases loaded and two out. He popped up and we didn't have another runner reach scoring position the rest of the game. Whose name you won't see on that scoresheet is Brandon Belt's, but he got called up the next day and is in the lineup for the game to be played today (or that is currently being played today and soon I'll be able to watch it). He needs to hit and hit quickly so that there won't be an excuse to get him out of the lineup. Sandoval/Beltran/Belt is a reasonable middle of the order for a team down the stretch. Our disinclination to stick him in the lineup has already cost us baseball games this season.
8. I Did Other Things This Week, Like Post Every Day
Here are the
top 10 Players not in the NFL Hall of Fame,
my
Preseason college football top 25,
the latest in my
series of all time NFL rosters,
my look at the
top 5 players in baseball at each position through the first 120 games,
and my preview of
Summer Slam 2011.
9. Nor Did I Ignore the Outside World.
Here's the one political piece I've got for you this week.
How much do you think Rick Scott, who spent over 70 million dollars of his own money to become Governor of Florida and has spent his time in office cutting social services, pays for health care?
30 bucks a month.
I work paycheck to paycheck. I feel ashamed about it; to be 40 years old with 2 jobs that will soon become 4, 2 graduate degrees, a Bar Association membership, with no children, and having worked for the past 8 years as a full time professor at the same college - but it's absolutely true; were there to be an error on the 15th of this month and I would fail to get my direct deposit, my rent check would bounce.
I pay over 200 bucks a month more in health insurance than does the multi-millionaire, hundreds-millionaire governor of this state who is governing on fiscal responsibility and belt tightening and the need to cut government spending to the bone. Except for his personal health insurance subsidy. Don't listen to the right wing when they say they want smaller government. They want every last drop of government they can get to work entirely on their behalf. The right wing is the machine against which you might consider raging one day, you kids at the baseball games this weekend. Don't ever forget that.
10. Mullin.
Congratulations to Chris Mullin, the second greatest Golden St. Warrior of all time, for his induction to the Basketball Hall of Fame this week.
That's all for this time. I'll be back next time. If there is a next time...
Your pal,
Jim