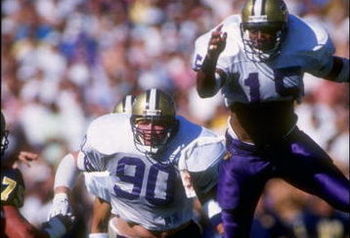 This season, there won't be a Pac 10, there's now a Pac 12.
Perhaps this does not matter; there was a Pac 8; one day there will be a Pac 16.
But in my college football life, there's only been 10; the first college football season of my memory was '78, the first year of the Pac 10 - and to me, the Pac 8 was black and white.
So, from '78-2010; here are the Top 10 Teams in the history of the Pac 10 as ranked by pythagorean record and strength of schedule.
1. 1991 Washington (National Champions)
-Hobert, Kaufman, Bailey, Kennedy, Emtman, Hall
2004 USC (National Champions)
-Leinart, Bush, White, Smith, Jarrett, Tatupu, Jackson, Bing
-McDonald, White, Allen, Munoz, Van Horne, Budde, Banks, Lott, Smith
2005 USC (lost Rose Bowl)
-Leinart, Bush, White, Smith, Jarrett, Kalil, Baker, Justice, Cushing, Rivers, Maualuga, Rivers, Bing
2002 USC (won Orange Bowl)
-Palmer, Fargas, Colbert, Williams, Cody, Patterson, Polamalu
6. 1979 USC (won Rose Bowl)
-McDonald, White, Allen, Brenner, Budde, Mosebar, Foster, Van Horne, Banks, Lott, Smith, Browner
7. 2003 USC (National Champions)
-Leinart, Bush, White, Colbert, Williams, Smith, Cody, Patterson, Tatupu, Bing
8. 2008 USC (won Rose Bowl)
-Sanchez, Havili, Turner, Matthews, Griffen, Cushing, Maualuga, Mays
9. 1988 USC (lost Rose Bowl)
-Peete, Owens, Ryan, Seau, Carrier
10.

1982 UCLA (won Rose Bowl)
-Ramsey, Townsell, Rogers, Sanchez