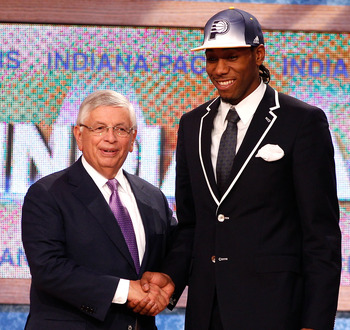 I watched the draft. Now I talk about watching the draft.
1. Maybe "can finish with either hand" needs to be retired as a basketball talking point. I'm not saying its not impressive.
2. Mark Jones is standing with the picks just off the stage. Jones asked Irving about how important his dad had been in getting him here, Irving's response "I'm looking forward to the NBA." When you read the "Irving and his dad haven't spoken since draft day" article from Scott Raab down the road, don't be surprised. Also don't be surprised if Raab eventually roots for a career threatening injury for Irving.
3. Kanter's fine third, I don't know if there's enough data to reasonably project. If I'm on the clock, I take Kemba Walker. Kanter apparently wants to wrestle after his career; he'd get a developmental deal just based on size alone, Were you doing a similarity score he's not entirely unlike the recent Tough Enough winner who no sold the Stunner. (maybe we should call what he did "selling it short" - as he got up too quickly as opposed to reacting like Hawk after a pile driver. I recognize with every word I'm talking to an increasingly nonexistent audience. I don't care about this.) More obviously, when thinking about big Euros, it would be Vladimir Kozlov to whom Kanter is most similar – not sure I need another boxy Euro on the WWE roster.
4. Tristan Thompson's fourth-the guy I publically wanted my Warriors to get at 11th. Cleveland's going after me for my LeBron fandom. The battle is joined. Seems curious, right, that the Cavs wound up with the top -pick the year after losing LeBron depite not having the worst overall record? THERE ARE NO SHORTCUTS. NONE. Highest Canadian ever drafted. Stu sings some O Canada and then the sound goes out.
5. My best available: Walker, Leonard, Biyambo, Burks. Jones asks the Lithuanian, "How is your game like Chris Bosh?" "I don't know – I have not so strong body." Your fifth overall pick, Toronto. Stuck in Eastern Europe for another year with his not so strong body.
6. Veseley's like my next rent check - an overdraft. Jeff Van Gundy complimented him on his girlfriend; that's gonna be a popular sentiment today. JVG says Charlottes trying to get bad, which is absolutely right. You rarely hear an announcer say that a team should be trying to get worse. But he's absolutely right; if you aren't contending for a title you should be contending for the number one draft pick. It's the middle that buries you. They should take Walker. They took Biyambo, don't know if its their need, but he's value. Fran Fraschilla hit him with "can't play any offense at all" and "allegedly 18 years old". I slam draft telecasts for happy talk all the time, so this is refreshing. All of the foreign players have said "I don't know" to at least one of Jones's questions.
7. Please someone take Klay Thompson away from me. Word is Jerry West has the big pants for Klay Thompson, who wouldn't be in my top ten remaining players.
8. That's the second time today there's been talk on TV about Brandon Knights AP coursework in high school; when a football player scores an 8 on the Wonderlic, all you hear is how ridiculous it is they give an intelligence test at the combine, but somehow Brandon Knight's analysis of the Canterbury Tales when he was 17 means he's going to be a better pro than Kemba Walker.
9. Walker's a bad fit for GSW, but Leonard's not, and I want him if he's there at 11.
10. Stu didn't understand the Sac/Charlotte trade, thinking the Kings would 'really" be picking at 9; it's less his fault (I mean it's his fault, I understood it, and I spent the day giving an Ethics final; you want to see my AP scores? I'll tell you all about first person perspective in The Yellow Wallpaper) than that the NBA draft rules aren't pointed toward transparency. It's a basketball draft, craft a rule that allows everyone to understand when Sacramento picks 7th they're really Charlotte. All NBA rules must be three pages or less! Maybe Herman Cain for deputy NBA commissioner.
11. Here's the headline for the 2011 Draft – Michael Jordan won it. Biyambo and Walker. Terrific job. The player he's most similar to is DJ Augustin, who he goes to backup this year in Charlotte. Walker's mother says this is like the day he was born. The circumcision will bring a new meaning to the kiss and cry area.
12. Kings took Jimmer, which was expected after the trade. Fine with me. GSW is next. Take Leonard and not Thompson. I'd be really pleased with Leonard. Pleased enough with Burks. Irritated with Klay Thompson. I am a 30+ year GSW fan and I am asking you nicely not to take Klay Thompson.
13. Don't draft Klay Thompson. There's enough data on Thompson to know he's not athletic enough to be more than a 9th-10th man. Don't want him. Don't do it.
14. We suck.
15. He won't be better than Leonard or Burks. If he winds up better than both Leonard and Burks, my apologies to Jerry West. Check back in five years. We've got two kids of former players now, leading to the musical question - who was better, Klay's dad or Steph's dad.
Dell Curry had 42.6 Win Shares, regular season+playoffs, in a little over 1100 games.
Mychal Thompson had 64 Win Shares in a little over a thousand games.
Thompson was better.
16. And then Burks and Leonard go straight away. Grumble.
17. A dollar says Singleton's better than Vesely.
18. My board after the Tobias Harris pick – Honeycutt, Faried, Hamilton, Williams, Motiejunas, Johnson, Brooks.
19. The Pacers are dealing Leonard for George Hill. I would not make that deal. The reaction of the announcers is pro-Pacers on the deal (outside of JVG; I hope GSW didn't take the wrong member of that announce team) I believe them to be wrong.
20. Fraschilla and Stu are killing Motiejunas. Easier to do that to a guy who isn't there. Bilas doesn't have Honeycutt in his next ten best players available; this is a good challenge as I like Honeycutt more than Klay Thompson.
21. Nolan Smith? The Blazers took a backup college point guard with the 21st pick in the draft.
22.Stu asks dopey question about Karl's cancer motivating the Nuggets; JVG corrects him. Come be Jackson's defensive assistant, JVG. You say smart things that confirm my worldview. I feel about Jeff Van Gundy like stupid people feel about Glenn Beck.
23. Faried was an easy pick for Denver – the two dozen people still at the draft continue to boo Stern before every pick; I appreciate the fortitude.
24. Houston just boosted Johnny Flynn from the Wolves. Kahn shouldn't take Morley's calls.
25. Sac got Honeycutt. Let's see if he's better than Jimmer. The Nets took Jordan Williams; Stu called it "karma" that they took Buck Williams 30 years ago. I'm not entirely sure what karma means, I'm guessing drafting two guys named Williams isn't it.
26. We bought Jeremy Tyler. Then drafted Charles Jenkins. "the first New York City public school graduate…or he would have been…drafted in the first round since Sebastian Telfair. "
It's the second round, see. But Stu had a note about Jenkins that applied had he been taken in the first round and he decided to read it anyway.
I like Tyler and Jenkins well enough as second round guys. Had we taken Leonard instead of Thompson I'd feel terrific about the new regime.