The Wrestlemania 28 preview was
here.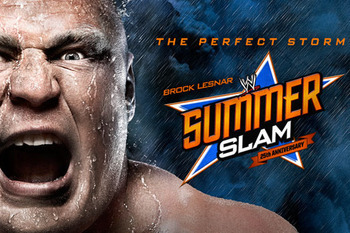 Don't turn 41. Wait a little bit and turn 500 months. Blast it out and never celebrate a birthday again.
I'm 503 months; meaning if you look at my actuarial table I should be a lapsed wrestling fan.
I'm not. I'm an unrepentant wrestling fan; I keep lists, I give matches qualitative ratings, I have an auxiliary hard drive filled with hundreds of hours of puroresu (that's Japanese wrestling – you know any movie snobs? I don't mean people who dislike movies with the words Fast and or Furious in the titles, I mean people who read the new
Sight & Sound
ranking of the greatest movies of all time and railed about Au hasard Balthazar being ranked ahead of The 400 Blows? I'm that dude – except with wrestling. I'll accept your judgment) and I watch every WWE PPV.
I even preview some of them. That is this.
SummerSlam is Sunday from Los Angeles. Here's the card.
1
Triple H vs. Brock Lesnar (with Paul Heyman)
-When last we left young Brock he dropped the WWF Title to Eddy Guerrero at the PPV between the Rumble and Wrestlemania XX in early 2004 – somewhat forgotten (because its largely been edited from subsequent DVDs) is that match included a Bill Goldberg babyface run in that helped cost Lesnar the strap. Steve Austin was shoehorned into the storyline as a second Lesnar antagonist and when the MSG crowd turned on both Goldberg and Brock (both leaving the promotion) more recall Austin's stunning both men than who won that Wrestlemania match (it was Goldberg).
8 years later, Brock returned to WWE to an enormous babyface reaction when he destroyed the top star in the promotion, John Cena. In the interim Brock became one of the biggest stars in all of combat sports, arguably the second most popular fighter of any type in the US behind Floyd Mayweather, and coming off the heels of a financially successful return run by the Rock, Lesnar looked like a license to print money. Granted, that would be money that could then be funneled into another losing US Senate campaign, but Vince is a "genius" after all.
So far – tough to call this a big success. Brock lost to Cena in his only PPV appearance to date, and then settled into a feud with Hunter (in his role as Stephanie's Husband, heir to the family throne, holder of the booking pencil) over dueling interpretations of the statute of frauds.
Paul Heyman, also gone from professional wrestling for several years, returned in a panto of his real life role as Lesnar's advisor to serve as mouthpiece; in the go home RAW Lesnar broke Shawn Michaels's arm (HBK remains retired, but popped up in the past couple of weeks as Hunter's best friend who would be in his corner against Brock) because, you know, he's a bad man. A bad man who wants a small number of guaranteed dates and the bottled water in the green room to be tepid. Tepid, goddammit.
Lesnar/Cena was super; better, in my view, than HHH/Undertaker from Mania (but neither were as good as Punk v. Bryan from whatever PPV that was) I'd expect this match also to be very good, Lesnar beating Hunter so badly we don't see him even one time between now and Mania is the only result that makes any sense at all. I don't have any idea if they will do it that way. (3 1/2 stars, the best match of the night, Brock going over hard with a clean submission win)
2
WWE Championship: CM Punk (c) vs. Big Show vs. John Cena
-There are two World singles champions in WWE; this belt is the lineal WWF Heavy weight Title, Bruno and Hogan and Bret and Austin – it's that belt.
Punk's on a historically significant title run; he took the strap last summer during the brief stretch when he caught fire with the sports culture at large and then regained it from Alberto del Rio in a Survivor Series 3 way. This is still that run – the longest since Cena's from '06-07 – if he can make it to the end of the year, it's the longest WWE Title reign since Hogan's first, almost 30 years ago. Were Cena to survive at SummerSlam, that's all he should be talking about, every match should be his doing whatever he could possibly do to make it to the Rumble as Champ (where, incidentally, the Rock will be taking on whomever holds the belt).
It's a winner, right? It wins for me, at least; you can see the clip package where Punk discusses his superiority to every champ for the past three decades – and given that Punk is now a bad guy or at least evolving toward bad guy status, that gives him an easy weasel character and puts over the value of the title belt, which, since the Rock will now be in play for it, is probably an emphasis they want to make. Of course, given that I think the best booked show on television is Jerseylicious (particularly a season ago when Olivia kicked Tracy in the head and shouted throughout the club "This is a shoot! It's a damn shoot!")
So we'll say Punk keeps in a not particularly good match; Cena (who I like less than does anyone with the possible exception of his ex-wife) runs in place until his eventual rematch win over the Rock and the Show remains Big, Big. (Didn't make it to 3 stars and those are the only matches worth thinking about once they're over; Punk kept)
3. World Heavyweight Championship: Sheamus (c) vs. Alberto del Rio (with Ricardo)
-The other World Title in WWE is really the promotion's secondary title; think of it as similar in scope to the old Intercontinental Title (that is now the tertiary belt with the US singles title being something they fight over on YouTube) WWE used to have a more pronounced roster split between RAW and Smackdown, and this title belt was created to reflect that (and to give some recognition to the old WCW line of champions which gave some recognition to the old NWA line of champions). Now it primarily serves as an anchor for the B house shows.
Sheamus has been Champ since Mania, getting as big a babyface push as anyone in North America in 2012; he's fine. Not "girl, that Sheamus is fine" but, he's fine – I like him enough as a middle card guy, which essentially is how this title holder is positioned. I'm uncertain I see him as a potential number two babyface in the promotion type, and given his relationship with Stephanie's Husband there's potential for a multi-year overpush, but in 2012 there's not much reason to complain about Sheamus. I don't know who wins; one assumes Randy Orton, who just returned from getting Melkied (new term for a drug suspension, let's see if we can get some traction on it) will quickly be put into this mix, probably as a babyface for a little while longer given the Punk turn. This should be a good enough match to watch. (3 stars even with a screwy finish with Sheamus keeping)


-Bryan Danielson's my favorite ever wrestler who didn't kill his entire family, so his getting over as bearded solipsistic heel is my favorite element of 2012 WWE. Kane's just a placeholder in this program which is really the tail of Bryan's relationship with former valet and now RAW figurehead authority figure AJ (it's unclear in storyline terms what made her qualified for the job, had Vince said "she has the best ass for any GM candidate since Mike Adamle" it would at least provide a pretense. This was presumably supposed to be the Charlie Sheen spot, serving in some way as Danielson's antagonist. I'd assume there was some type of #It'sYourOwnFaultforTryingToWorkWithCharlieSheen type of negotiating issue. If anyone could get a PPV match worth watching out of Kane…(Bryan won)
5 Dolph Ziggler (with Vickie Guerrero) vs. Chris Jericho
-Here's the match I'm most looking forward to on the card.
Jericho's leaving again, to go sing and write a book and host some godawful reality show and preserve his body and more guys should take his career approach and periodically cycle away from wrestling as they age. He's made a soft babyface turn in recent weeks and finds himself in a hotshot program against criminally underpushed Ziggler, who is a cocky, Hennig-like heel.
(Tyson Kidd's exception to my referring to a guy actually booked for the show as underpushed is noted for the record.)
It's a good, simple program. Ziggler says Jericho's washed up. Jericho disagrees. They fight.
Oddly enough, there is no clamor for a discussion of the finer points of subrogation or similar such contract law doctrine. Wrestling booking ain't that hard.
Ziggler's really the only example in WWE of an undercard worker who generally attempts to do something that steals the show – that's my favorite mindset for a wrestler and the type of show I'm most likely to buy – where each wrestler looks to have the best possible match as opposed to sublimating their abilities so as to not show up the staring contest in the main event.
This match probably gets 8 minutes. But 6 of them will be good.(3 1/2 stars, it got more time than I expected and was as good as I expected, Jericho won and then lost the next night, leaving the promotion again)
6 Intercontinental Championship: The Miz (c) vs. Rey Mysterio
-Two recent returnees match up here; The Miz just got back from shooting the latest WWE film that you'll never see, presumably an extended conversation between Miz and Wally Shawn reminiscing about Polish theatre while Gymnopedie No. 1 plays in the background. He took Christian's IC and probably keeps here against Rey, one of the ten greatest wrestlers who ever lived. Reys's back from his latest catastrophic knee injury and the clock's ticking fast on his ability to keep doing this at a high level. (3 stars, Miz keeping)
7 Tag Team Championship : R-Truth and Kofi Kingston (c) vs. The Primetime Players (Titus O'Neil and Darren Young)
The champs are the good guys; the challengers the bad guys; no one involved will make a Kobe Bryant rape joke. (Champs kept.)
There's also a pre-show match with the former Claudio Castagnoli probably winning the US Title; maybe they add a women's match or a Brodus Clay or a Ryback or even a Cody Rhodes v. Sin Cara.
So – it's a show worth watching, I think; although not one superlikely to produce a match that cracks this list: (Nothing was close to making this list.)
The Ten Best Matches in SummerSlam History
1. Bret Hart d. Owen Hart ('94)
2. Davey Boy Smith d. Bret Hart ('92)
3. Edge/Christian d. Hardys/Dudleys ('00)
4. Shawn Michaels d. Razor Ramon ('95)
5. CM Punk d. Jeff Hardy ('09)
6. Bret Hart d. Mr. Perfect ('91)
7. Christian v. Randy Orton ('11)
8. Undertaker d. Edge ('08)
9. CM Punk v. John Cena ('11)
10. Brainbusters d. Hart Foundation (89)