The San Francisco 49ers have played 35 games against the New York Giants.
We've won 18. They've won 17. We've played 7 times in the playoffs, we've won 4.
The Giants have never lost in the NFC Championship game. They meet again Sunday.
Here are the 35 previous meetings.
San Francisco 49ers 14 at New York Giants 23
A decade later he'd be a New York Giant, but in the first ever game between the Giants and Niners, YA Tittle was the 26 year old starting QB for San Francisco. He threw 3 picks that day and New York won that matchup.
New York Giants 38 at San Francisco 49ers 21
Sunday, September 30, 1956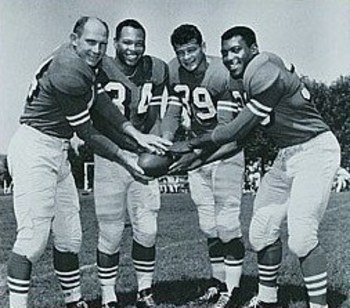 Four years later Tittle was joined by Perry, Johnson, and McElhenny in the Million Dollar Backfield, but we turned it over 4 times and got beat to open the season in '56.
San Francisco 49ers 27 at New York Giants 17
A mediocre Niners team was our first ever representative in the NFL playoffs, a December win in New York helped get us there as we forced 7 Giants turnovers.
New York Giants 21 at San Francisco 49ers 19
Sunday, September 25, 1960
Three years later Candlestick was under construction, the Niners were still in Kezar and in the middle of a 13 year long playoff drought. That didn't get any better in our season opener, as we lost to the Giants 21-19.
San Francisco 49ers 14 at New York Giants 48
Sunday, November 17, 1963
Three years later the longtime Niner Tittle was in New York throwing 4 scores against one of the all time terrible San Francisco squads the week before Kennedy was killed. There wouldn't be a worse Niner team than this until 2004. The QB - Lamar McHan. The leading rusher - JD Smith. The leading receiver - Bernie Casey. There you go.
San Francisco 49ers 26 at New York Giants 10
Sunday, October 20, 1968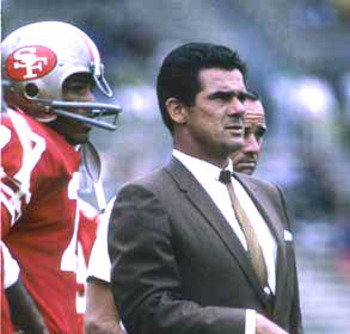 Dick Nolan took over in '68 and the slog through the 60s began to bear a little fruit; we tore through the Giants on the ground in this one; Gary Lewis went 16 for 101 and Ken Willard was 15 for 84 with a score and added four receptions. We took a 23-3 lead into the 4th and eased into our second ever win over the Giants.
New York Giants 23 at San Francisco 49ers 17
Sunday, October 15, 1972
New York almost missed the upper tier Niner teams of the era, as we didn't play again until '72. In the intervening years the Niners played in back to back NFC Championship games (losing, natch) but they caught up with New York here.
And lost.
Gene Washington (see if you can find him next to his girlfriend in the above picture) caught two scores, but we lost what turned out to be the first of five straight times against the Giants.
New York Giants 26 at San Francisco 49ers 23
Sunday, December 21, 1975
Do you know who played for the '75 Niners? Bullet Bob Hayes.
Hard to believe a team with Tom Owen as its starting quarterback lost this game to the Giants, but we did.
San Francisco 49ers 17 at New York Giants 20
Eddie D had taken over the Niners two years later, but the losing continued - the Niners were winless when they went to New York in week 5 of '77 and left the same way, even though we held the Giants to 154 yards. Here was Joe Pisarcik's passing numbers against us:
2 for 6. 47 yards. 1 TD. Mysteriously, those numbers did not cause Joe Pisarcik to be revered for his high character and magical abilities to win football games.
San Francisco 49ers 10 at New York Giants 27
Sunday, September 24, 1978
The '78 team was my first ever Niners club; this game was the day before my 8th birthday and even though we were winless, I was all in with OJ Simpson (my first ever favorite athlete) and the up and coming 49ers. We lost an extra tight game in Houston against Earl Campbell the week prior, and this was going to be our coming out party.
Steve Deberg threw 4 picks and we got blown out.
San Francisco 49ers 16 at New York Giants 32
Sunday, October 14, 1979
Moustache Montana was on the bench watching Phil Simms throw for two scores when we lost this game in '79.
I was ready each week for things to turn around, Paul Hofer was good, averaging five yards a carry, James Owens seemed an exciting rookie kick returner. And the losing continued - New York scored 27 in the second to win their fifth in a row and 9th of 11 against us.
New York Giants 0 at San Francisco 49ers 12
Sunday, November 23, 1980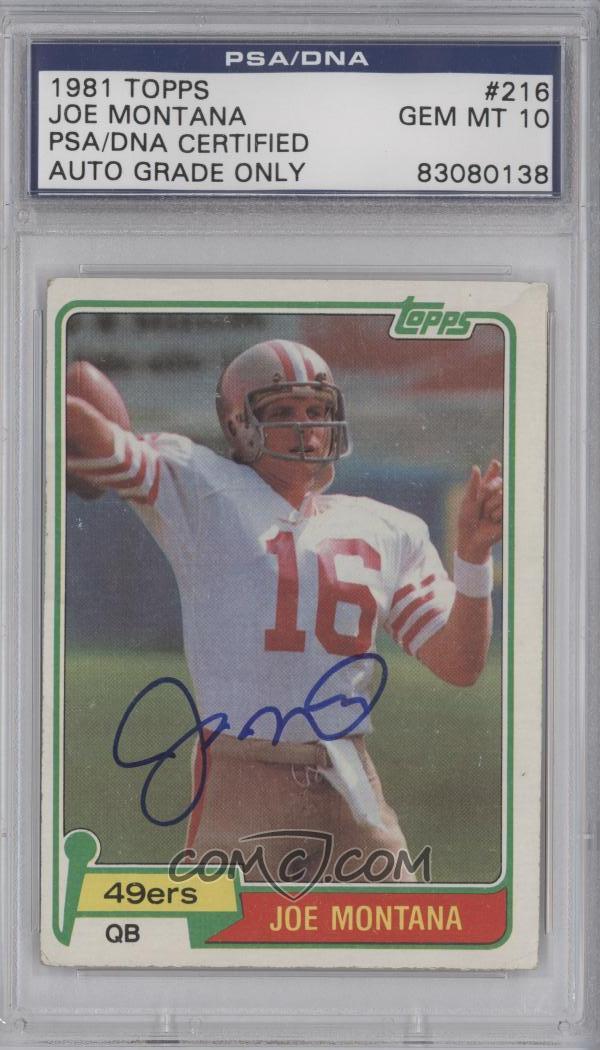 When did Joe Montana make it clear he was the starting quarterback for the 49ers?
This game.
With Steve DeBerg still behind center, The Niners had lost 8 straight, but beat the Giants here 12-0 (the only shutout in the history of the rivalry) behind Montana's 66 yard score to Earl Cooper. Two weeks later was the great comeback against the Saints, and the following season we won the whole thing.
New York Giants 10 at San Francisco 49ers 17
Sunday, November 29, 1981
We beat the Giants twice in '81; the first in Week 13; we forced 5 turnovers including 2 Carlton Williamson interceptions. Pretty good since Freddie Solomon was forced to take the field against 36 Giants at a time.
New York Giants 24 at San Francisco 49ers 38
And the second was the first round of the playoffs; Joe was 20 of 31 for 304 and scores to Young and Solomon. The first ever playoff meeting between 49ers and Giants went to San Francisco 30 years ago. We were penalized 14 times for 145 yards, both Freddie and Dwight had over a hundred yards receiving, Ronnie had two picks, returning one for a score.
San Francisco 49ers 31 at New York Giants 10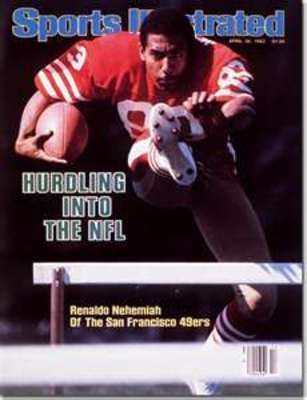 The Giants then had to play us twice the next time we won the Super Bowl (perhaps it happens again this year?) when considering regular season and postseason, the best all around Niner team was '84, and our first ever Monday Night meeting against New York was in Week 6 of the '84 season, the week before we lost our only game of the year. This game was never close, 28-3 at halftime following what was maybe the best moment of Skeets Nehemiah's NFL career, a 59 yard first quarter touchdown pass from Montana. Joe threw two more (Frank/Craig) and Simms got picked twice. It wasn't ever close.
New York Giants 10 at San Francisco 49ers 21
Saturday, December 29, 1984
Just as we did three years previous, we opened the playoffs by whipping New York. All of the points were scored by halftime; New York didn't score an offensive touchdown. Simms got sacked 6 times and picked twice. We had beaten the Giants five straight times. What rivalry? We own these guys.
San Francisco 49ers 3 at New York Giants 17
Sunday, December 29, 1985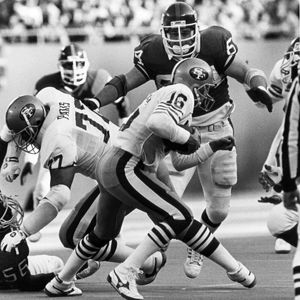 A year later, it was San Francisco going to New York for a playoff game and the fortunes reversed. It was the Niners who couldn't score a touchdown; Joe got sacked 4 times and intercepted once and the Niners got pushed around.
New York Giants 21 at San Francisco 49ers 17
Monday, December 1, 1986
A year later the Giants and Niners met for their second ever Monday night game, and this one went the other way. We went into halftime up 17-0 on two Rice scores and then watched it get away; New York scored 3 times in the third and the 4th turned into a war of attrition. The "49ers aren't physical enough to play with these Giants" storyline became an official part of this rivalry when Bavaro carried our secondary twenty yards down the field.
San Francisco 49ers 3 at New York Giants 49
Sunday, January 4, 1987
We had beaten the Giants twice in both our Super Bowl seasons - this was New York's first Super Bowl, their second win of the season against us, and our bloodiest ever playoff loss. Joe got knocked out on a second quarter Jim Burt hit, threatening his career. We had fewer than 200 yards of total offense, and New York scored 21 points in both the second and third quarters. We turned it over 4 times and the 49-3 final was reached by the end of the third quarter. The Montana era Niners almost never just got their heads kicked in - this game felt like a punch to the prefrontal cortex
San Francisco 49ers 41 at New York Giants 21
Monday, October 5, 1987
The, er...rematch?...was 9 months later; the '87 Niner scab team got much needed revenge in front of 16,000 in the Meadowlands on a Monday night. Mark Stevens threw a 39 yard TD pass to Carl Monroe (who scored a touchdown in a bigger game three years before) and also rushed for a score; the Niners scab team played well, the returning Niners then dominated the league when the stoppage ended, becoming the best 49er regular season team of all time and our most surprising non World Champion
San Francisco 49ers 20 at New York Giants 17
Sunday, September 11, 1988
A year later was a full fledged quarterback kerfuffle. Joe was pulled at halftime of the playoff loss to the Vikings, and after theoretically injuring his elbow in week 1 he was on the bench the next week - Steve became the starting quarterback in Week 2 of the season in New York. He was okay, 11 of 18 of 115 - but he got pulled at the half and, miraculously, Joe was healthy enough to replace him. With 42 seconds left and the Niners down 17-13, Joe hit a streaking Rice for a 78 yard touchdown to give us the win.
New York Giants 24 at San Francisco 49ers 34
Monday, November 27, 1989
What a crazy ass Monday night game this was between two 9-2 teams. Joe was 27 of 33 for 292 and 3 scores; LT got taken away in an ambulance, and we went into halftime up 24-10. But New York closed on us with two second half scores to tie it at 24. A late drive seemed to end on a missed Cofer FG - but New York lined up offsides, and he made the second kick. A Simms pick turned into a meaningless Niner score (except, I'd guess, for those investing in the game) and we were on our way to Super Bowl number 4.
New York Giants 3 at San Francisco 49ers 7
Monday, December 3, 1990
By now the late season Niners/Giants MNF matchup was a standard part of the sports calendar. This was the matchup of 11-1 teams that ended with Ronnie Lott and Phil Simms going nose to nose. There weren't many penalties, there was only one turnover - this wasn't a mistake filled defensive struggle - this was the two best teams in the NFL punching each other in the neck for 60 minutes. John Taylor's second quarter touchdown was the only one either team would get.
New York Giants 15 at San Francisco 49ers 13
Sunday, January 20, 1991
The 4th playoff meeting between the Niners and Giants was the end of the 1980s. Joe Montana was never the starting quarterback for the 49ers again; there was no Threepeat, Ronnie Lott and Roger Craig played their last games in San Francisco and New York kicked 5 field goals to beat us in the NFC Championship game. You may see some clips of that this week. I've been a Niner fan with some memory of every single game since I was 7 years old; I'm now 41. This was absolutely the worst loss we've had in those 34 years and there's not an argument to the contrary.
San Francisco 49ers 14 at New York Giants 16
Monday, September 2, 1991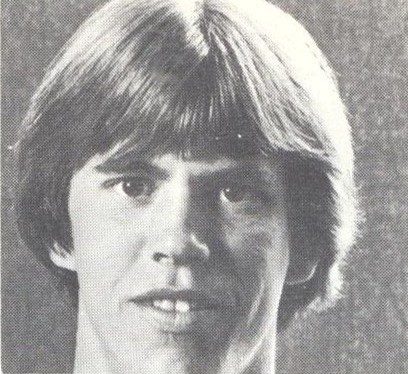 The annual Niners/Giants Monday Night game opened the '91 season - Steve was now the starting quarterback, but again Matt Bahr kicked us to death, three field goals meant a 16-14 Giants win.
San Francisco 49ers 31 at New York Giants 14
Sunday, September 6, 1992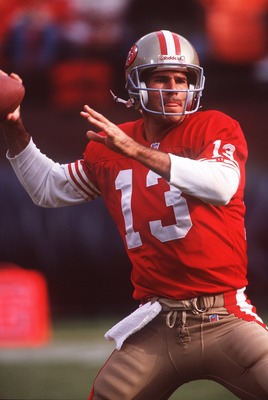 New York Giants 3 at San Francisco 49ers 44
Saturday, January 15, 1994
How you like that, New York? It wasn't 49-3, but it was close. The Giants came to Candlestick for the divisional round of the '93 playoffs and they got hit by 5 Ricky Watters touchdowns. How about a 44 point 49er game without a single passing touchdown? This was that. New York had less than 200 yards of offense and as Joe's 49er career essentially ended against the Giants; this was Phil Simms' last game.
New York Giants 6 at San Francisco 49ers 20
Sunday, October 1, 1995
The Giants team which came to town the following season was Dave Brown and Herschel Walker. We swept them away, up 20-3 in the third in a game never really in doubt.
New York Giants 7 at San Francisco 49ers 31
Monday, November 30, 1998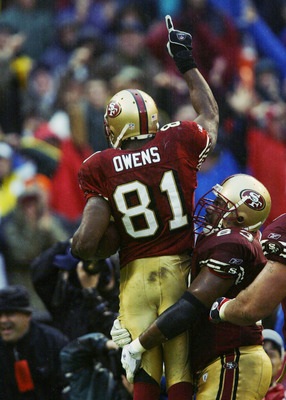 It had been 7 years since the previous Niners/Giants Monday Night game (and 13 years later, there hasn't been once subsequent) when New York came to town in 1998. 466 yards of offense later we sent them on their way - a 79 yard touchdown pass from Young to Owens, a 70 yard touchdown run by Hearst - the Kent Graham Giants were outgunned all night long.
San Francisco 49ers 16 at New York Giants 13
Thursday, September 5, 2002
Four years later the 2002 season opened with the Niners visiting the Giants; three Kerry Collins interceptions and 3 Jose Cortez Field Goals gave us the 16-13 win.
New York Giants 38 at San Francisco 49ers 39
Sunday, January 5, 2003
The second biggest comeback in playoff history.
Amani Toomer caught 3 first half touchdowns; the Niners were down 38-14 with 4 minutes left in the 4th quarter (which was when my parents left my house; this may have been the last Niners game the three of us watched together). Then Garcia hit Owens from 26 (Owens's second score of the game) plus a 2 pt conversion to Owens; then Garcia, who had 331 yards passing and 60 rushing had a 14 yard touchdown run that was recalled this past Saturday by Alex Smith's run in the way that the Owens catch and cry against the Packers seemed reborn by Vernon Davis's game winner. A second Owens two point conversion cut the deficit to 8. A field goal and a 68 yard touchdown drive in two minutes capped by a Tai Streets score gave us the 39-38 win saved when New York botched a potential game winning field goal at the gun.
New York Giants 24 at San Francisco 49ers 6
Sunday, November 6, 2005
When the Giants came to San Francisco 3 years later, the 49ers starting quarterback was Cody Pickett.
San Francisco 49ers 15 at New York Giants 33
Sunday, October 21, 2007
When the 49ers went to New York two years later, San Francisco's starting quarterback was Trent Dilfer.
San Francisco 49ers 17 at New York Giants 29
Sunday, October 19, 2008
And when the 49ers went back to New York the next season, the San Francisco quarterback was JT O'Sullivan.
The worst stretch in 49er history, the mid 2000s, and 3 straight losses to New York. You're welcome, Big Blue.
New York Giants 20 at San Francisco 49ers 27
Sunday, November 13, 2011
17-17. That was the rivalry total as of November, 2011; David Akers kicked 4 field goals and the Niners withstood a Giant rally to win 27-20
60 years of football later; they meet again. Niners/Giants this Sunday.
First came the '92 season opener - Young got knocked out early; Joe was still injured from the 1990 NFC Championship - but Steve Bono went 15 for 22 for 187 and 2 scores. We got 4 sacks and 2 turnovers and Tom Rathman scored twice.