The previous Tendown, by which you can get to all previous Tensdown, is
here.
Dear Internet:
In the dark week, I hit the doctor a couple of times. I'm fine, save for a need to relieve some element of cascading stress. During one visit, the doctor got a phone call. I'm not so much the person who cares about that particularly as it allowed me to hear the doctor's ring tone.
"Tom Sawyer"
That allowed for the following exchange, during a discussion about said stress:
Doctor: How would you characterize your current mental state?
Me: Always hopeful, yet discontent.
If he noticed, he didn't acknowledge.
You gotta make your own fun, people. Here's Tendown 101.
1. Yes, This is Really Jerry Sandusky's Autobiography
I'd like you to walk with me through something.
Let's assume Sandusky's guilt in all of the alleged acts. What criminal sentence would you expect?
Presumably a very long prison term, he's in his mid 70s, so its essentially the rest of his life in jail.
That seems to make sense.
What if he were 26? Let's make Jerry Sandusky 26, same facts, what's the sentence?
Would life with no parole be too harsh? No homicide, so that would be a little startling, right? Maybe you wouldn't be opposed - but for a 26 year old to be given a life sentence without parole without having committed murder, you'd be surprised - that's fair, I think.
What if there was no molestation at all?
What if instead of the molestation - 26 year old Jerry Sandusky had just looked at photographs of naked children?
What if 26 year old Jerry Sandusky, without any criminal record, had never been accused of touching a single child, but instead looked at child porn? What's the sentence?
I'll tell you what it was a week ago
in Florida
, life with no possibility of parole:
Does downloading child pornography from the Internet deserve the same criminal punishment as first-degree murder?
A circuit court judge in Florida clearly thinks so: On Thursday, he sentenced Daniel Enrique Guevara Vilca, a 26-year-old stockroom worker whose home computer was found to contain hundreds of pornographic images of children, to life in prison without the possibility of parole.

There won't be any vigil of college students for Daniel Vilca. No presidential debate will be focused on oversentencing for non-violent crimes. For every ten thousand hours of discussion about what we should do with the legacy of Joe Paterno there won't even be a second about a stockroom worker buried in a prison forever.
Proportion is important. One can say "child porn is bad" without imposing a life sentence for looking at it, just as one can say "9-11 was bad" without exterminating hundreds of thousands of middle eastern civilians in response and one can say "the percentage of our aggregate wealth controlled by the very richest of Americans is excessive in a way harmful to a society" without advocating Stalinism.

But Paterno, right? Oof. He needs the full Reagan defense "I actually lost my mind years ago and am not remotely engaged in anything that happens here." It (somehow) saved Reagan's legacy, and those in the Paterno protection business might be able to rehabilitate his image, but I think he's going to have to play the grey card.
2. Hall of Fame
The Cardinals won the World Series. Tony LaRussa retired and in dozens and dozens of athletic obituaries like
this one from SI
, his career was given the historical context his record would deserve:
The most important manager of his generation left on his own terms. There were no naps in the dugout, no breakdowns of trust with upper management, no ugly seasons of too many losses to stain a legacy. Tony La Russa, at the age of 67, with 5,097 regular season games of experience in the dugout over 33 seasons, went out with a world championship that solidified his legacy as one of the few icons who brought change to the game.


Tony LaRussa is a Hall of Famer on the face of his career and there wasn't much debate about that. It wasn't until the dying paragraphs of the piece, reflective, I'd suggest of the national conversation, that the following was raised:
Those Oakland teams also will be remembered as early adapters in The Steroid Era, and that is another reason why La Russa's importance to the game is huge. He claimed, and still does, to have had little to no knowledge about how his biggest stars, like Jose Canseco and Mark McGwire, with their bloated bodies and prodigious power, were using steroids. It asks you to suspend belief in how closely a manager gets to his players despite spending nearly every day with them for seven months a year. At the least, it begs the question as to how La Russa could have missed so many signs.
The choice of usage, let's be clear, belonged to the players, not the manager. That is where the responsibility lies. But as the leader of the team, La Russa at least must live with those questions. But that was La Russa, too: fiercely protective of his players.
So, the steroid element of LaRussa's record is limited to whatever moral complicity he might have as being the manager of rogue players, in the way that a college football coach might be criticized for not policing booster involvement, and even then the "loyalty" that LaRussa gives those players is framed as a good.
What is unspoken, and has gone unspoken, I think, as part of the discussion, is the degree to which LaRussa's record benefits from the performances of those players. Here's Tom Verducci, the author of the LaRussa
piece, on Mark McGwire's Hall of Fame candidacy back
in January.
Quoting McGwire's home run rate is like quoting Ben Johnson's time in the 100 meters at the 1988 Summer Olympics.
And that's also a pretty good example of the dominant wisdom; the personal achievements of those who used drugs we've decided are performance enhancing within a particular generational window essentially do not count, they did not happen. But somehow the team accomplishments of that era remain untarnished. Who won that '89 World Series if not Canseco and McGwire? If we're taking away home runs how can we not take away the wins resultant from those home runs? If we take away Ben Johnson's gold medal, do we not take away Canada's as well?
It is reflective of the prism through which we've seen the entire steroid era - individual ballplayers were tarnished, tainted, prosecuted - but the teams that benefited from those athletic performances remain untouched. Barry Bonds goes on trial while the Giants sell out the baseball park built on his back. It isn't just an issue of moral complicity, it's intellectual honesty - if the home runs "don't count" then the wins and World Championships (I'm talking to you, 2004 Red Sox) don't either.
3. One of These Nights
Here's a good game. From now on, every time you hear a random Eagles song, ask yourself, "What Drug is Don Henley on Right Now."
On the X Factor, I think two weeks ago, someone sang "Desperado" - and I shouted out "tylenol with codeine!"
It's fun, play it.
While I'm talking about the X Factor, one of the contestants is a little boy named Astro (he's either 10 or 14 or somewhere in between, I don't know) doing 1990s era rap (stylistically I mean). His gimmick apparently is he is writing his own material each week; to demonstrate that, this week's song included a shoutout to Joe Frazier. It's torn from today's headlines!
This is a helluva good idea; Astro raps about current events. Like his own Tendown. Maybe this week will be Andy Rooney or the 99% movement?
Diet Pepsi sure has great fizz
Why'd that coach have to rape them kids?
4. Be More Like China.
SNL tried without a lot of success to lampoon Rick Perry's debate performance from earlier this week; its not their fault,
there's just not much you can do to make this funnier than it was.
What I want to talk about is Michele Bachmann from
last night's debate:
"The 'Great Society' has not worked and it's put us into the modern welfare state," she said. "If you look at China, they don't have food stamps. If you look at China, they're in a very different situation. They save for their own retirement security…They don't have the modern welfare state and China's growing. And so what I would do is look at the programs that LBJ gave us with the Great Society and they'd be gone."
That's the modern day right wing. Only the modern right wing would focus the full weight of its energies into condemning as socialism the minimum wage and social security while trumpeting China as the economy to model. When the right wing talks about the evils of communism, they don't mean totalitarianism; they don't mean tanks in the streets. They mean health care. They mean a top marginal tax rate above 30%. The right wing is arguing that its worse to live in Canada than China.
5. Don't Register Your Students to Vote
The right wing movement to suppress voting now means prosecuting high school teachers who register their students to vote.
6. Is Five Guys Next?
If you have a brain in your head and reasonable access, you love you some Chick-Fil-A.
I have
bad news.
Earlier this year, Chick-fil-A became embroiled in a controversy surrounding its donations to anti-gay groups. Though Chick-fil-A president Dan Cathy denied having an "agenda against anyone," an
Equality Matters
investigation discovered that Chick-fil-A donated more than $1 million to anti-gay causes between 2003 and 2008. Now, new IRS 990 forms reveal that the company donated nearly two million dollars to anti-gay groups in 2009 alone, the most recent year for which public records are available.
7.
All of the Real Housewives Songs Ranked, 16-1
Personally, I'd go with
Closet Freak at #1.
8. The Catch I Just Saw Live on RedZone.
That's Jonathan Baldwin from like a second and a half ago.
We killed Bin Laden with a sneak attack
J Baldwin's catch behind that dude's back.
9. My All-Time Favorite Reality Competition Contestant.
It's Aaron, from Big Brother UK. And he won, of all things.
I would like to apply for membership in the Great British Public.
10. . The Twitter Feed You Need to Follow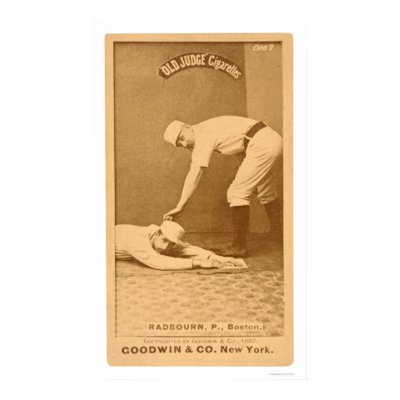 I'm not on Twitter; it's a level of real time plugged in that I just don't want to be; if I have an instant reaction to an element of politics or culture I'm good sharing it with my Ladygal. I'm not saying I'll never join, but right now I'm good.
But you, of course, are on Twitter, and who you should be following is
Old Hoss Radbourn.
@
jessespector
I once threw a CG victory from the deck of an ironclad.
"Verily, it is the 11th day of November, the year of our Lord 1111. Let us marvel at this numerical miracle." - not one medieval person
I am inspired by D. Duquette, and shall place my curriculum vitae on "Linked In." It will consist of the number 59 and a burning Reb flag.
The most offensive part of this "McRib" campaign is the poxy Irish again attempting to foist their slop on the civilized world.





That's all for this time. I'll be back next time...if there is a next time...



Your pal,

Jim